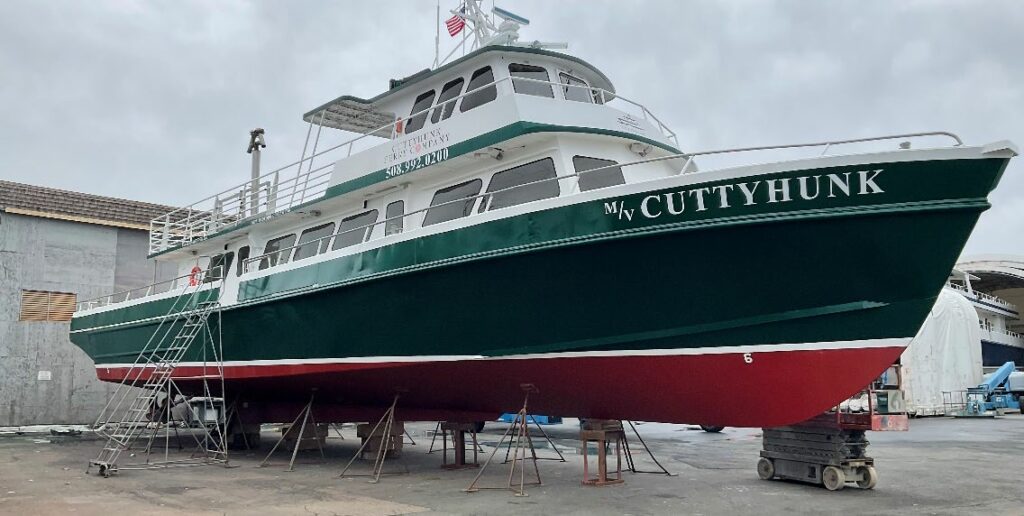 Alrighty folks! 
Wow, what a warm, yet stormy and windy Winter, there seemed to be a gale every Friday! From our perspective, here on the coast, it's nice to avoid the snow and ice, we are looking forward to the upcoming season of "fair winds and following seas" Alan W.This past Fall we did our USCG 'out of water inspections' which are due every two years. We had zero deficiencies which is a credit to the wonderful ongoing maintenance that is done by our hard-working crew. We also used the haulout to have the hull and bottom painted. This year we went to Fairhaven Shipyard, the yard must do all exterior work, which is new to us, so the crew got a break, the yard did a great job, on time and on budget. Chuck and Jonathan prepped and painted the cabin sole, among other projects, bringing a clean look to the interior. We are so grateful to have such a dedicated, skilled, and helpful crew. As he did last Summer, Jonathan continues to captain the boat with a skill and calmness that Chuck and I are in awe of! Chuck continues his usual great piloting and helpful friendliness. In between my own sailing trips, I will also run the boat. It's so great that Sue and I can feel comfortable, knowing the boat and passengers are safe with these guys, we also hear so many compliments about how helpful and friendly they are. Summer recharges everyone's batteries which empowers the stalwart crew for the upcoming hard work of a very busy season, luckily, they are good at it and love it! 
As is done every year, we will get another crew member (or 2) from Northeast Maritime in Fairhaven. Laureen, John, Jack, and Don will continue to work various days a week to keep the compliment of crew to an efficient and workable number.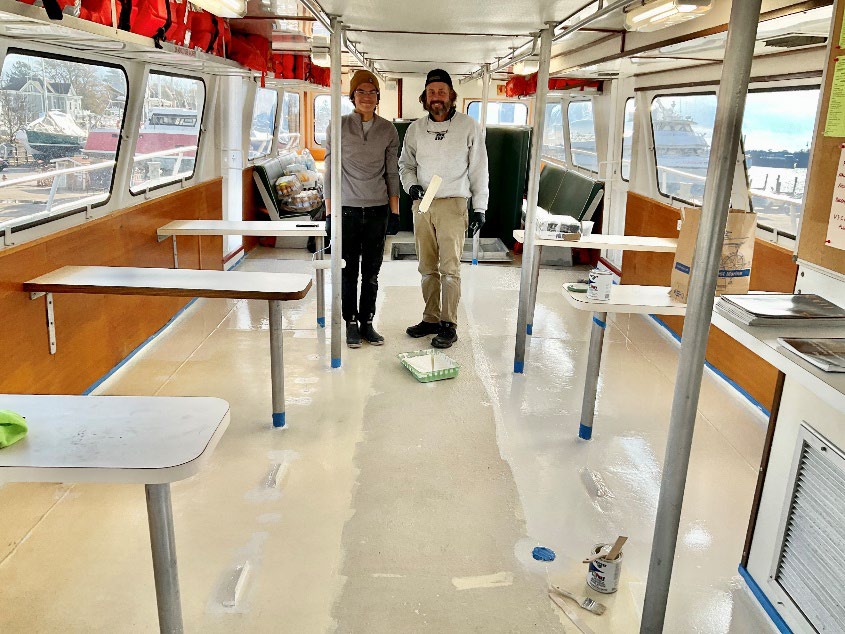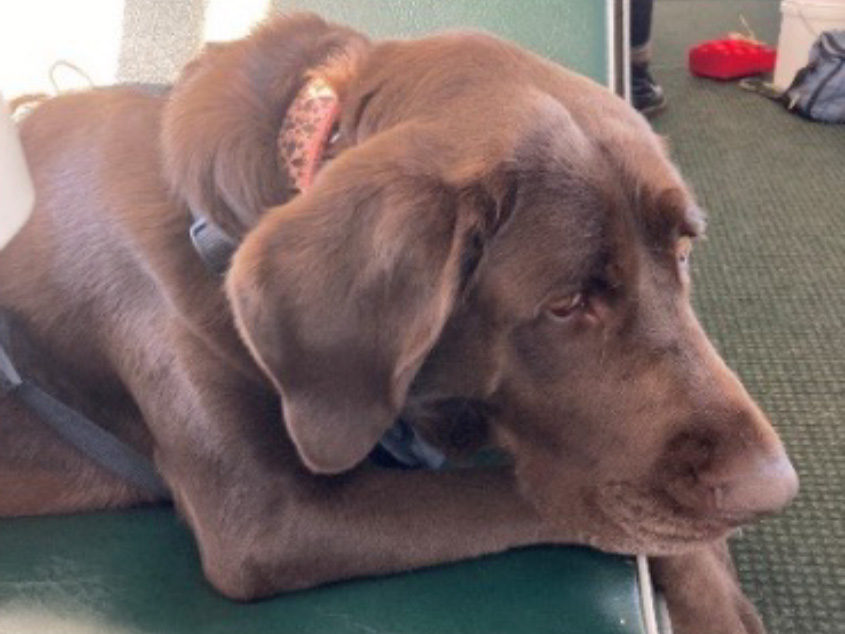 We are continuing to require that all ticketing get purchased through our reservation system. It really helps the cash flow as well as the tracking of, per trip, passenger numbers (USCG requirement). The use of the system helps us to keep the wait times in the office to a minimum. Having reservation input helps us plan staffing vs passenger numbers and allows weather related schedule changes to be communicated quickly with passengers via texts. Sue works hard with the software people to make the system as user friendly as possible so as not to be an inconvenience to you. Thank you for using it, it is a great help. Note: You will notice a slight change to the Sunday mid-day schedule. 
Some of you might have seen a new set of plans for the use of State Pier, there are new administrators who are planning some significant changes. We have no idea when this might happen, we will still be based on the pier, but parking could be impacted. We are fighting hard with the mucky mucks to keep everything Cuttyhunk friendly and we will keep you posted before any impacts take place. 
We remain ever vigilant to be a safe, happy, and efficient ferry service for the wonderful people of Cuttyhunk. We so appreciate all your support and business throughout the year, all of us love seeing you folks year after year. 
This ferry thing is what we do, we love doing it and therefore we continue to invest in Cuttyhunk Ferry for the long term, upgrading whenever time and money allow, we are here and fully committed. We remain your humble Ferry Company. 
All the best, 
Sue, Jono, Jonathan, Chuck, and Layla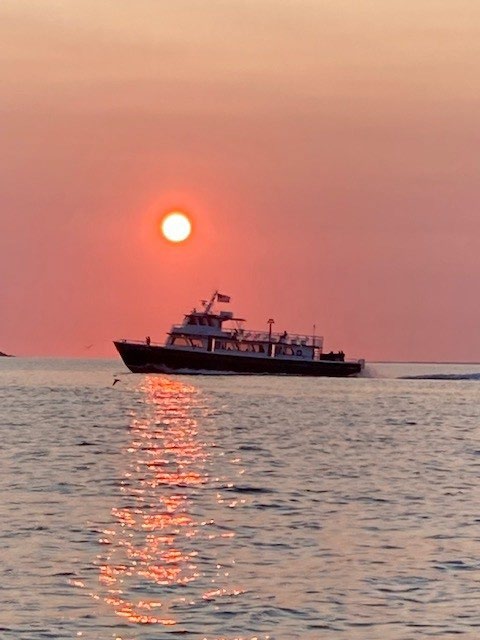 Reservations are required for any travel, available from our online system, this is because we need to know how many we have each morning and to process payments and get in touch in case of changes. In addition, you can purchase luggage tickets directly both from the website and the reservation systems, the office staffing is being kept to a minimum. 
Rates: Adult Tickets are $42 each way, same day round trip is $62; Childs Tickets are $33 each way, same day round trip is $48, Child is 12 and under. 10 paks are available for $380 and must be ordered 3 days in advance of travel. 
Luggage is 5$ per tote up to 40lbs, up to 70lbs 10$, each direction, over 100lbs $.15 per pound. Remember we must lift items multiple times, don't over fill! The crew has a real problem with any extra heavy totes. We are all getting older! Think about how many times your totes must be handled by hand (and back) and please pack accordingly. Put your name on totes, many are left behind and we don't know who to contact, it also prevents mistaken pick-ups. Once again, we will be offering bulk luggage tickets, notice that 50 tickets can be purchased for $225 directly from the website separate from ticket sales.. Must be ordered 3 days in advance of travel.
Please note that we cannot be responsible for damage or loss to poorly packaged, unlabeled luggage and freight! We travel 14 miles across often stormy seas so pack right, know how many you have before you arrive AND PUT YOUR NAME ON THEM!! Totes are always the best bet.
One Carry-on piece of luggage per person: reasonably sized items attended by a passenger and carried on and off. One carry on item is allowed, at no charge per person, all other items must be checked as luggage. Carry-ons may be subject to checking as luggage at the discretion of the crew.
Daily Parking: on the pier is $18 per day.
Parking permits are required, available at Cuttyhunk Ferry Company office. Strict enforcement on State Pier includes towing and fines. Parking is on a first come first served basis and unfortunately cannot be reserved. Please arrive with enough time to deal with parking as we leave right ON TIME!
Monthly Parking: April, and May $300 per month, June, July and August $350 per month, September, and October $300 per month. We have a limited number of monthly passes available on a first come first serve basis, if you want a monthly pass, you need to email Sue (please no phone calls) (sue@cuttyhunkferryco.com) and clearly state which months you want a monthly pass for, REMEMBER FIRST COME FIRST SERVE!!
Parking permits are required, Strict enforcement on State Pier includes towing and fines. Fees are subject to change. We strongly recommend that you contact the city parking division concerning the Elm Street Garage and the Whales Tooth Parking Lot. They offer long term parking at a greatly reduced price and offer very convenient shuttles direct to the pier.
Phone numbers:
Office– 508-992-0200
Sue– Reservations, tickets, schedule:
Cell/text- 401-354-9303
Jono– Freight, charters, boat questions
Cell/text- 401-965-3480 Please, text or email, no voice messages.

Sue's email: sue@cuttyhunkferryco.com
Jono's email: jono@cuttyhunkferryco.com